On Easter Sunday our youth hosted a breakfast to raise money for their retreat this summer. Jared made pancakes while the youth also made eggs, sausage and waffles. There was enough food to feed several armies. So what do you do with all the leftovers? People took some of it here and there. There rest we brought home. We may have a big family, but it still isn't big enough to finish all the left overs. I ended up making this Zingy Egg Casserole for breakfast one morning.
Several children ago, our good friend Lauren brought this casserole to us. It was perfect. Thomas had just been born. Many of our friends had just taken calls, so they were already gone. Jason and Lauren were just returning from their vicarage for their last year. This casserole really hits the spot. Well, maybe not for our vegetarian friends. Just pretend you didn't even see this. I actually changed it a little since we didn't have bacon, but it still worked out well.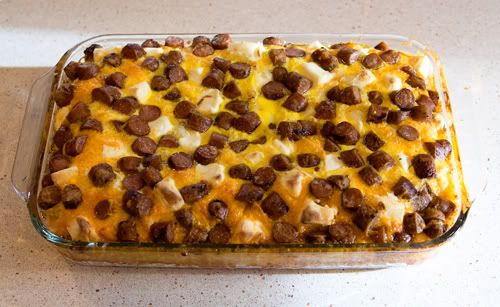 1 16oz loaf French Bread
1 1/2 cups grated Monterey Jack cheese
1 1/2 cups grated cheddar cheese
1 8oz cream cheese
1 4oz can green chiles
8 strips bacon, fried and crumbled (I substituted with sausage)
10 eggs, beaten
2 cups milk
1/2 tsp dry mustard
dash ground red pepper
Tear bread into bite sized pieces and place in the bottom of a greased 9 x 13 pan.
Sprinkle the bread with Monterey and Cheddar cheese and small pieces of cream cheese.
Top with bacon and drained chiles.
In a separate bowl, combine eggs, milk, mustard, and red pepper.
Pour egg mixture over the entire pan.
Cover and chill for several hours or overnight.
Bake uncovered at 350 degrees for 55-60 minutes. Let stand 10 minutes before serving.